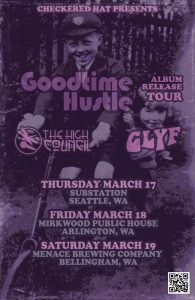 I've recently added all of my obsessions together and produced an album with my band Goodtime Hustle. Then I decided to go ahead and book a little tour to promote it. Of course, then, I had to promote the tour and the album. I realize now that this project is my true resume. Let's break this down.
I wrote the music.
I formed a band and taught them the music.
I performed that music in the studio for the album.
I produced the album with the help of a couple engineers of my choosing.
I hired a guy to create the packaging and directed it's production.
I arranged for CD's of the album to be produced and for the music to be distributed on all major platforms.
I handled all the licencing and copyright.
I booked a tour; hired the bands, negotiated with venues, booked one of the stops, and found people who could book the others for me.
I found a cinematographer to produce a music video and co-starred in it.
I produced and followed through on release and promotional plans that inundate our target audience with media about the tour, the album, and the video across multiple social media platforms, websites, in print, and on the radio.
I distributed the album to hundreds of college radio stations, bloggers, and streaming radio stations.
I designed the merch and found subcontractors to produce it.
I determined how much to charge for the merch and built an online store to sell it.
I designed the lighting, audio, video, and streaming packages that are going on tour with us.
I hired the lighting designer and audio engineer and convinced them to transport most of the gear as well as set it up.
I'm coordinating logistics for the entire tour and acting as the top level promoter.
And last but not least; for three days in a row I'm going to get up on stage and sing you my story.
Come buy a ticket, a shirt, and a CD. Demonstrating what I can do has been expensive. I have paid for everything out of my own pocket.
The album release party is March 18th, tickets here -> https://bit.ly/stpattyshustle